The

Academy

of

Music

& Tullamore Resource Centre "Reach for the Stars" CD Launch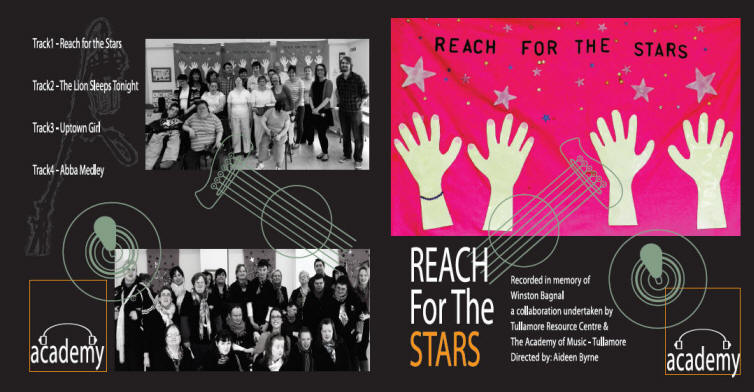 In January of 2013 The Academy of Music - Tullamore were approached to devise a programme of music education to work with groups at the Tullamore Resource Centre for people with an intellectual disability.
The idea came about as a result of the passing of their member Winston Bagnall, and his great love for music. The Academy designed a comprehensive programme of weekly classes, where the groups worked on Songs and percussion with project director Aideen Byrne of the Academy of Music, with the vision of recording a CD in memory of Winston.
On Friday 21st June 2013 the vision became a reality as they launched their CD "Reach for the Stars".
Exciting news is that there was that there was a special guest video link appearance at the Launch by Winston's favourite Country Artist "Daniel O'Donnell".
CD Acknowledgement reads as Follows:
We would like to dedicate this CD to the memory of the Winston Bagnall.
Winston was truly the inspiration behind the making of the CD, his love of music has left us with so many fond memories that will remain in our hearts forever.
ACKNOWLEDGEMENT
We want to acknowledge and thank all the people involved in the making of this CD and those who made this project possible.
The Academy of Music, Tullamore – Aideen, Martina & Ciaran.
Anne MCHugh, Community Development Officer,
Puttaghaun Community Centre,
Winston's family – mother Charlotte, Lorna, Fiachra, Maebh & Ailbhe
Winston's Uncle and Aunt Dick and Lynn Agar,
Reverend Canon David Hutton Bury and his Parishioners in Geashill Parish.
All Winston's friends in the Tanyard Resource Centre, Kilbride Street, Coinneal House, Teach Mhuire & Arden Heights Day Service.
We hope you enjoy listening to the CD as much as we enjoyed putting it all together.
...