Moate Children's Choir have won
Sligo

Feis Ceoil
First Place

Junior Choir 201

9

<![if !supportEmptyParas]>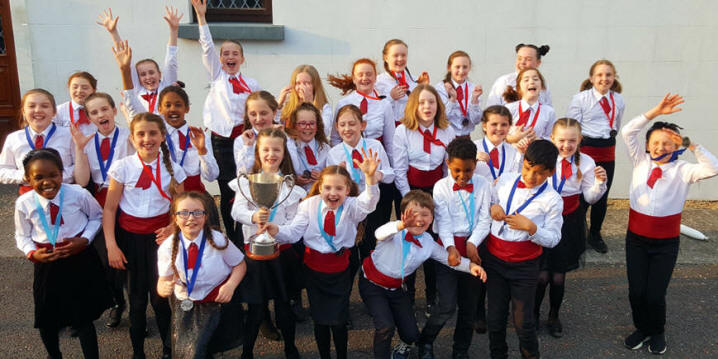 <![endif]>
Moate Children's Choir have won the Junior Choirs U-12 Competition at the Sligo Feis Ceoil.
The already multi-award winning U12 Choir from Moate, are walking on air after scooping 1st prize in the Junior Choir category of the choral competitions that took place on 22nd April.
The choir presented two pieces, "The Birds Lament" and "The Smugglers Song", that they have been perfecting in rehearsals since September to a packed auditorium. It was a nail-biting wait for the final results, and it was music to the ears of all involved when they were deemed the outright winners. Adjudicator, Andrea Calladine applauded them for their work as a "well disciplined choir demonstrating a healthy full tone and vibrant singing".
The choir also performed their winning pieces along side GLÓR Youth Choir and the Midlands Youth Orchestra in a packed concert last Sunday 28th April in Moate. A collaborative concert by all groups called "Classical Youth". An inaugural annual event, bringing together the midlands finest instrumentalists and singers under the age of 18. The performance was hailed as a huge success by the audience.
Moate Children's Choir was founded in 2007 by Ciarán Brady. They are current first place winners of the Junior Choral competition at the ESB Feis Ceoil and they also won first place in this prestigious competition in 2012, 2015 and 2018. As a result of these wins, they were invited to perform at the gala choral concert in the RDS main concert hall last March. They also won first place at Limerick Choral Festival in 2012 and have also won many awards at other National Choral Competitions. They have featured on radio and television. The choir is a training ground for young primary school singers in the Midland regions with the average age of the choir being 10 years old. They work with sheet music, learn to sight read, and receive vocal training through an enjoyable environment whilst being immersed in fine choral music. They rehearse in Dún Na Sí Hall, Moate on Thursday evenings.
Ciarán Brady is an honors Master's graduate in Music and vocal performance from Maynooth University, where he also conducted the University's Chamber Choir.
Ciaran is Director of The Academy of Music in Tullamore and is Vocal Coach and Performance Tutor at Maynooth University's Music department.