Moate Children's Choir have won the ESB Feis Ceoil Junior Choir 2015 at the RDS in Dublin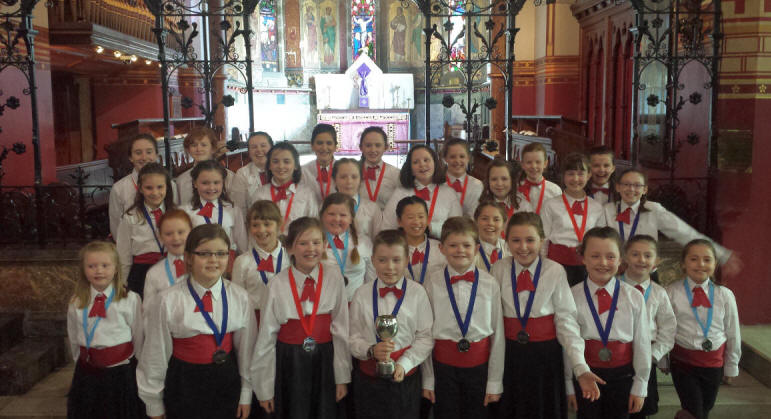 <![if !supportEmptyParas]> <![endif]>
Moate Children's Choir have won the ESB Feis Ceoil Junior Choir Competition 2015 at the RDS in Dublin.
The 30 strong Choir from Moate, are walking on air after scooping 1st prize in the Junior Choir's category of the competition which took place on Wednesday 18th March.
Under the choral direction of Ciaran Brady (Director of The Academy of Music, Tullamore) the young singers captivated a packed auditorium with their performances of "I Hear Spring Calling" and "The Birds Lament" accompanied on piano by Tatyana Vykhodsteva.
Beating off stiff competition from several well polished choral performances from all around the country, it was a nail-biting wait for the final results, and it was music to the ears of all involved when they were deemed the outright winners.
The judges applauded the choir in all aspects of their singing and singled them out for praise for being "a well disciplined group, with excellent vocal production, technical knowledge and a captivating performance".
As winners of their category the choir were invited to perform at the "Winners Concert" at in the RDS Concert Hall where they wowed audience of a packed luxurious auditorium. They were also recorded and interviewed by RTE Television for a special documentary to be aired in April. A life long memory for all involved.
The choir were also treated to a tour of UCD which was organised by Jayne Horan (Choir Assitant) where they got to see the workings of a Steinway piano in the UCD Music Department and took several tours of the college before being treated to a movie.
Moate Children's Choir was founded in 2007 by its Director Ciaran Brady. It is a training ground for young singers in the Midland regions with the average age of the choir being 11 years old. The choir work with sheet music, learn to sight read, and receive vocal training through an enjoyable environment whilst being immersed in fine choral music. They do many concerts nationally. They received master classes from composer Colin Mawby on his works in preparation for competitions and Colin gifted them with their own Christmas Carol composed for them which was performed at their annual "Carols for All" concert with "The Tullamore Academy Chamber Choir" and Prof. Gerard Gillen. They won first place at Limerick Choral Festival in 2012 and have also won many awards at other National Choral Competitions. The choir sing at Mass every Sunday of the Academic year in St. Patrick's Church, Moate.