Academy Student Awarded Prestigious
Fellowship Award is to Feature
on Sky Television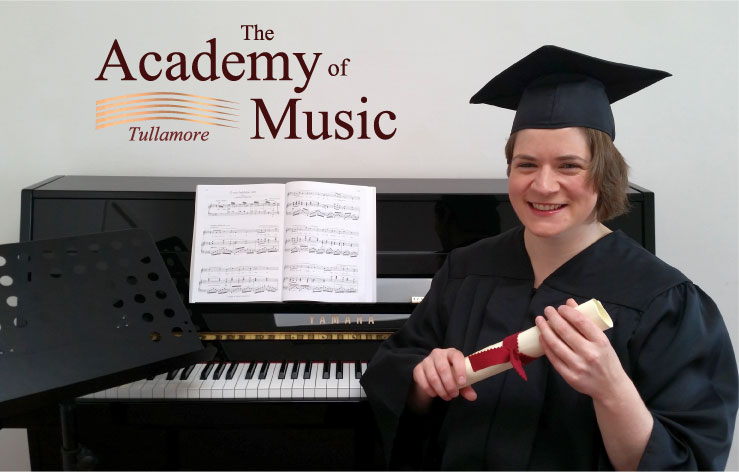 Dr. Laura Slattery from Tullamore Co. Offaly, who is a student of Voice at The Academy of Music Tullamore, has been awarded the Prestigious Fellowship Award from the London College of Music.
Each year, the Academy of Music in conjunction with the London College of Music, have their advanced instrumental and vocal students undertake diploma examinations of varying levels from Associate to Licentiateship. The examinations are held in Ireland from visiting examiners of the London College.
This year saw Dr. Laura Slattery awarded the prestigious Fellowship Award.
Laura is a 27 year old native of Co. Offaly. She has worked as an Intern at St Vincent's University and has now commenced work as a Senior House Officer. She graduated from "The University of Limerick Graduate Entry Medical School" in 2014, having first graduated with a BSc. in Biomedical Health and Life Sciences from University College Dublin in 2010.
Laura has a lifelong passion for music. She has been singing from an early age and took piano lessons from the age of 7. In 2008, Laura decided to commence formal vocal training with the aim of completing Grades and Diplomas and embarked on Voice Training with vocal coach Ciarán Brady at the Academy of Music, Tullamore. Laura has since achieved to Grade VIII with the Royal Irish Academy and was awarded a "Permanent TSB High Achiever Award" for excellence in musical ability following her Grade VII exam. She consequently completed her ALCM Diploma in Singing in June 2011 and her LLCM Diploma in Singing with Distinction in 2012. She has won several awards at Sligo Feis Ceoil including 1st Place in the Songs by Italian Composers competition in 2013.
Laura is also a member of the Tullamore Academy Chamber choir, who won the National Choir of the Year title in 2012 and have also won many competitions nationally and internationally. Laura has performed at many concerts and church events nationally as a soloist and is a very sought after Wedding Singer.
As a result of her success Laura will feature in the coming weeks on the "County Matters" programme on Sky television as part of a documentary on "The Academy of Music, Tullamore" where she will sing the famous aria "O Mio Babbino Caro" by composer Giacomo Puccini, a performance not to be missed.
On behalf of The Academy of Music, we congratulate Laura on her success in being the recipient of the Fellowship Award. This is a highly prestigious award and a very valuable recognition of her considerable talents and accomplishments as a student of the Academy. It reflects very well indeed and we are all delighted to see one of our outstanding students do so well and we wish her every success for the future.