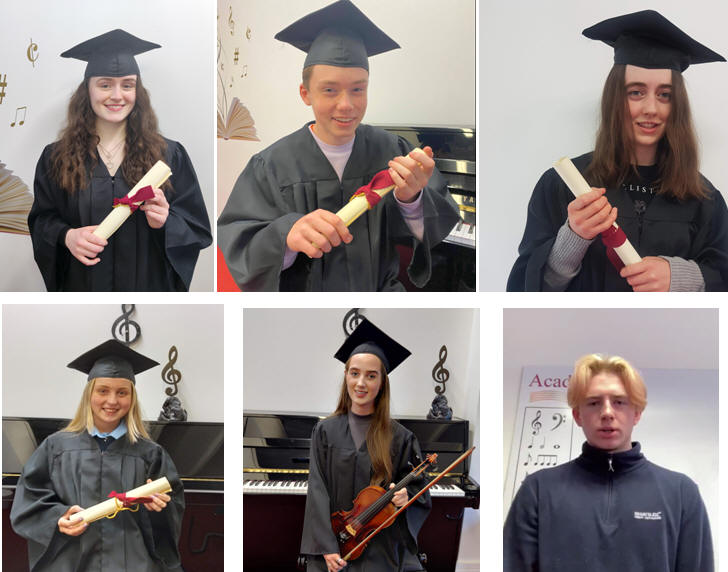 THE ACADEMY OF MUSIC IN TULLAMORE ARE CELEBRATING SIX YOUNG DIPLOMA GRADUATES

The Academy of Music are extremely proud to announce Six new young Graduates, all students of Piano, Violin and Voice/Singing
In the last couple of years of lock-down; with many performance opportunities; competitions; group musical activities; choirs, ensembles, orchestras etc… complete on hold and in virtual non-existence; it has been up to students themselves to persevere and progress on their instrumental studies at a 1-to-1 level in classes with their teachers. Many students have taken the time to progress through their grades and many students have managed to progress past their grade 8 and on to the Diploma Structure afforded to students by The Academy of Music.
Recently six students have taken these times to their advantage and worked hard, in the knowledge that the culmination of their years of graded examinations were coming to their climax in a performance for their London Diploma Examinations.
For diploma students, as well as a performance examination, students must undergo certain levels of theory examinations within their studies to satisfy the criteria of the required level of Theory of Music which assures a good standard of diploma and shapes their overall quality of Musicianship.
The Academy of Music is an Exam Centre for many examining bodies, mainly The Royal Irish Academy of Music, where students of all ages, levels and abilities embark on their musical training through the graded structure from beginners through to Grade 8. After Grade 8 there are many possibilities of further advanced study, with the most popular being a Diploma chosen from within the diploma structures offered by the Academy.
In the recent months to December 2021, The London Victoria College of Music and the Academy, to great delight and joy, were able to resume Live examinations again which took place at the Academy's premises in Tullamore.
Eva Henry, Cian Brady, Jennifer Dillon, Therese McCormack, Cliona McCarthy and Colm Shortall were all awarded Honours Associate Diplomas. This means that they are all fully qualified in their instruments and have been conferred with the Post-nominal initials- A.V.C.M. This is a massive achievement for them, before even graduating from secondary school or College.
Staff and Students of the Academy are very proud of their achievements and in particular on accomplishing their Diploma Qualifications in these uncertain times.
For more details and images visit www.theacademyofmusic.ie