The Academy Chamber Choir win Major Award at North Wales International Choral Festival 2013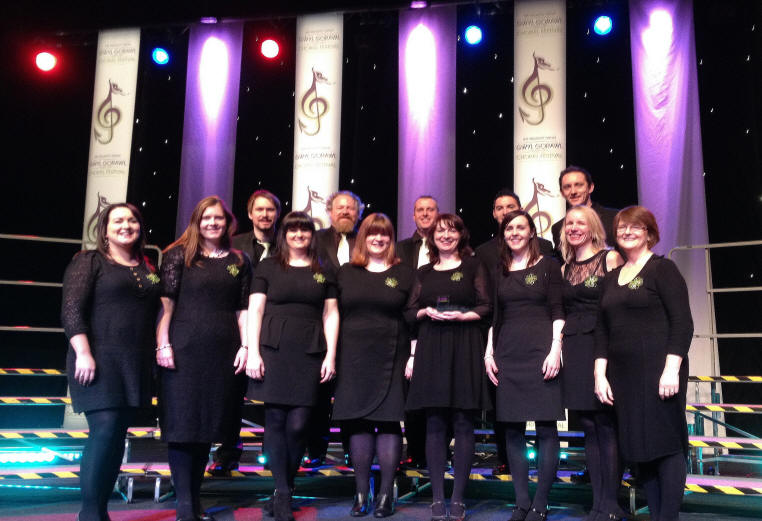 The Academy Chamber Choir Tullamore proudly won third place in the recent North Wales Choral Festival fending off intense competition from England, Scotland and Wales in the birth place of choral music.
Whether you are a choir buff or a choir novice, everyone knows that Wales is the cradle of choral singing. To entertain such a competition is akin to playing rugby with the All Blacks! However this did not faze the much decorated Academy Chamber Choir who began their successful weekend by taking part in a showcase of talent on the Saturday evening when they gave a lively rendition of RiuRiu Chiu followed by the serenity of Suantraí ár Slánaitheora which was beautifully lead by soloist Irene Wallace.
The pinnacle of the weekend's contest was The Mixed Choir competition on the Sunday which was littered with 12 Amateur and Professional choirs numbering from 10 members to 150 from England, Ireland, Scotland and Wales. Undaunted by this level of talent, the Academy Chamber Choir took the task of performing first in their stride and did the composers of El Grillo, O Nata Lux and Rytmus proud. The Judges confirmed that it was a well-chosen repertoire by the choir's conductor Ciarán Brady and that the bar was indeed set high.
Coming third in this internationally acclaimed choir competition has merely whetted the appetite for this local choir to venture even further afield to share their music. They have already swept the boards of competitions around Ireland including the title of National Choir of the Year in Navan 2012.