THE ACADEMY CHAMBER CHOIR NAMED
"NATIONAL CHOIR OF THE YEAR
2012
"
<![if !supportEmptyParas]> <![endif]>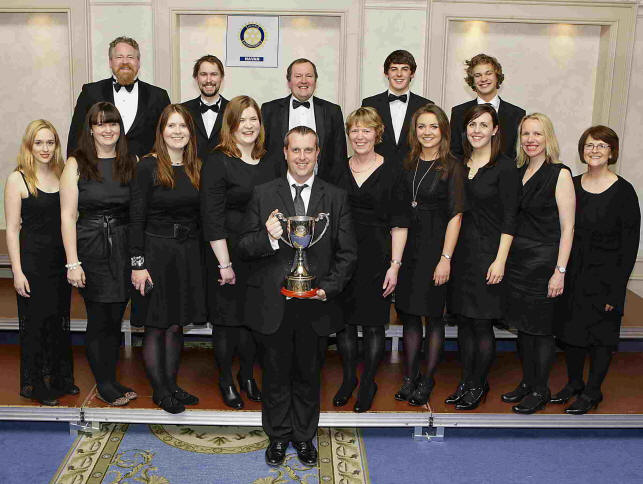 The Academy Chamber Choir (which is under the auspices of The Academy of Music Tullamore) claimed the top prize at the Navan Choral Festival this weekend (13th May) when under their conductor Ciarán Brady they won National Choir of the Year 2012.
The choir had a long and busy day competing in four competitions against some of Ireland's best known choirs. The Academy Chamber Choir started the day on a high (note!) when they came second in the Mixed Voice Choirs competition. Delighted with this achievement they went on to compete in the Sacred Music competition which they in turn won! With only half an hour to enjoy their well deserved victory the choir threw themselves straight into their next competition – Early Music. Again they did the midlands proud and won this category as well. Having two victories and a second prize from their three competitions thus far in the day, The Academy Chamber Choir's confidence could only have grown.
Not willing to let the triumphs go to their heads, the choir still found time in their busy day to squeeze in a rehearsal for the most challenging competition of them all – National Choir of the Year 2012. The choir have set this coveted title as their goal since first attending the festival a few years ago, but knowing the calibre of singers and choirs taking part – this was not going to be an easy task. However, The Academy Chamber Choir gave a stellar performance of Irish composer Colin Mawby's "Angelus Domini" and internationally acclaimed composer Eric Whitaker's "With A Lily in Your Hand". These challenging pieces would easily make any choir come unstuck – but The Academy Chamber Choir rose to the occasion and convinced the judges to unanimously award them National Choir of the Year.
This is a huge honour for The Academy Chamber Choir and ranks them now among the top choirs in the country.
If you are an experienced singer living in the midlands and would like to audition to be a member of The Academy Chamber Choir, don't hesitate in getting in contact with Ciarán at The Academy of Music, Tullamore on 086 0678250.