Click Here
to return to The Academy of Music - Tullamore
Home
The Academy Chamber Choir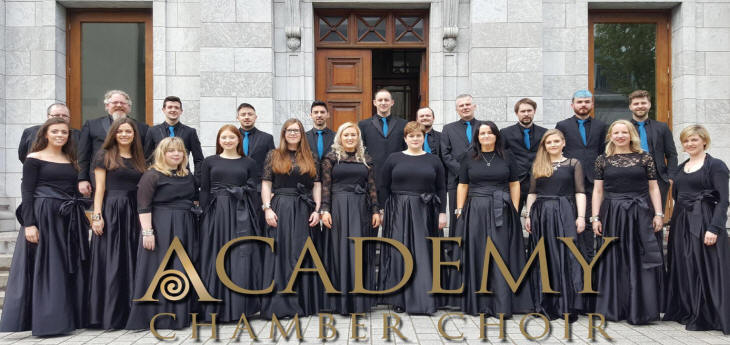 National Choir of The Year 2017

The Academy Choir is Irelands

National Choir of the Year 2017


The Academy Chamber Choir was founded in September 2007 as part of a performing group's initiative undertaken by The Academy of Music in Tullamore.
Each member is a student of voice with The Academy and has a different and wide-ranging background in solo, operatic and competitive performance. They have had huge success in almost every national choral festival including many awards at "Cork International Choral Festival".
They were winners of "Ireland's National Choir of the Year 2012" and came second place in 2014 competition. They were 3rd place at "North Wales International Choral Festival 2013". They specialise in the plainchant mass standing in for the Palestrina Choir and St. Patrick's Cathedral Choir in Dublin.

They have worked closely with the famous composer Colin Mawby in private master classes on his work as well as Master Classes with Greg Beardsell on some works which they performed as a prelude to The Irish Youth Chamber Choir Concert.They took first place in the Chamber Choirs competition and Second in the Early and Sacred Music competition at Navan Choral Festival 2015. They featured on Sky television for the Double Canonisation of Pope John Paul 2nd and John 23rd.

In 2016 they were chosen out of 6 choirs in the world to represent Ireland at "Miltenberg International Choral Festival" last June where they achieved 3rd place amongst choirs from Columbia, Serbia, Phillipines, Denmark and Portugal.

In July of 2017 they were chosen out of 8

choirs in the world to represent Ireland at "Spittal an der Drau International Choral Festival"
Ciaran Brady is Director of The Academy of Music in Tullamore and is Vocal Coach and Performance Tutor at the National University of Ireland Maynooth. Ciaran has an Honour's Master's degree in Music and vocal performance from N.U.I. Maynooth where he also directed the "University Chamber Choir".Further post-graduate studies brought him to Germany where he trained in Advanced Vocal Technique with Prof. Markus Goritzky at the "Hochschule für Musik" in Freiburg.
Ciaran is a full time professional Vocal Coach and Choral Director with many award winning students. His Voice training started at the age of 10 as a boy treble and Head Chorister of the famous "Palestrina Choir". Professionally he was a member of the "RTE Chamber Choir" and founder member of "The National Chamber Choir". He also has extensive work as a soloist and recordings and has worked with companies such as "National Opera", "Opera Northern Ireland" and
"Opera Ireland". Ciaran is also founder and conductor of the award winning "Moate Children's

Choir" and "GLOR youth choir" two established midland's based training ground for young singers since 2007.